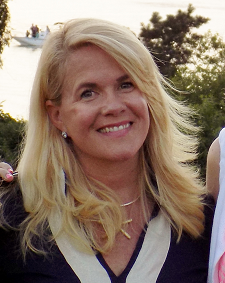 Lianne Griswold Acosta-Rua
Born and raised in Connecticut and having spent most of my adult life in Wilton, CT, I am happy to serving the community I love. Happily married almost 30 years, and with our two sets of parents married over 50 years, I believe in and cherish the sacred tradition of marriage. Whether at a Town Hall, on a riverside, a beachfront, in a country club or backyard, I can perform your wedding ceremony wherever is best or is most convenient for you in the state of Connecticut. After working in Washington DC and NYC, I have raised my family in Fairfield County where I grew up. I am familiar with both casual and formal venues for your wedding in this area. My work in marketing over the last few decades has allowed me to hone my communications skills. With two children away in Denver and one senior at the Wilton High School, I have time to focus on things I am passionate about my volunteer work and especially officiating weddings.

In addition to volunteer work for the Wilton Garden Club and Family and Children's Agency, serving on the Wilton Library Executive Board of Trustees and being reelected as a Constable for Wilton, I was appointed Justice of the Peace for Wilton, CT in December 2020. Since then, I have cherished the privilege of serving as a Justice of the Peace and am loving officiating weddings of all types and sizes. Performing wedding ceremonies is an absolute joy and honor and I look forward to making your wedding day as special as you both are. To see how I can help make your special day everything you dreamed of, please reach out.